Posts for: September, 2020
By Bruce A. Leonard, DDS
September 20, 2020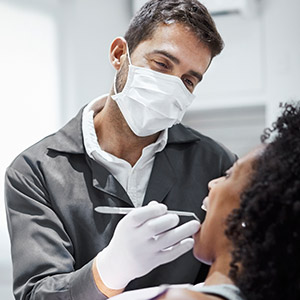 Each year millions of people endure repeated episodes of congestion, coughing and headaches, all the miseries that come with a sinus infection. Although it seems like all the action is occurring around the nose and upper face, the actual cause could be emanating from somewhere else—your teeth.
It can all begin with decay forming a small cavity in one of the upper back teeth. If it isn't caught and treated early, the decay can spread into the tooth pulp and root canals, tiny passageways to the root and bone. This may or may not cause a severe toothache or sensitivity as the tooth's nerves respond to the infection. These nerves, though, most often eventually die and the pain, if present, will subside—but not the infection.
Left untreated, the infection may then advance into the bone around the root tip, breaking it down and giving bacteria an entryway into the floor of the maxillary sinus that rests just above the upper jaw. Here bacteria can take up residence, occasionally flaring into a sinus infection. This chronic infection could go on for years with allergies mistakenly taking the blame.
If you have frequent bouts of sinusitis, a possible dental connection may be worth investigating. And in the dental profession, there may be no better "detective" for this than an endodontist. Specializing in interior tooth problems and treatments, an endodontist has the diagnostic equipment like CT or 3-D cone beam scanning to accurately image the teeth and upper jaw. With their advanced diagnostics, they're in the best position to uncover hidden tooth decay contributing to sinus problems.
Endodontists are also skilled in treating advanced tooth decay. The main procedure is known as root canal treatment, in which the dentist drills into the tooth's interior to remove infected tissue from the pulp and root canals. They then fill these empty spaces, seal and then crown the tooth for added protection.
After treatment and following up with your physician, you may find your sinus infections are less frequent. And by promptly seeking treatment at the first sign of tooth pain or sensitivity, you might prevent chronic sinusitis from even developing.
If you would like more information on how dental disease can affect overall health, please contact us or schedule an appointment for a consultation. You can also learn more about this topic by reading the Dear Doctor magazine article "Sinusitis and Tooth Infections."
By Bruce A. Leonard, DDS
September 10, 2020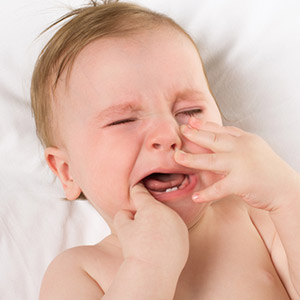 Parents have been dealing with their children's teething pain for as long as parents and children have been around. Along the way, the human race has developed different ways to ease the discomfort of this natural process of dental development. While most are good, common-sense measures, one in particular needs to be avoided at all costs—applying topical oral products to the gums containing Benzocaine.
Benzocaine is a topical anesthetic often found in oral products like Anbesol, Orajel or Topex to help ease tooth pain or sensitivity. The agent can be found in gel, spray, ointment or lozenge products sold over-the-counter. As an analgesic, it's considered relatively safe for adults to use.
But that's not the case with infants or younger children. Researchers have found a link between Benzocaine and methemoglobinemia, a potentially fatal blood condition. Methemoglobinemia elevates the amount of a hemoglobin-like protein called methemoglobin, which in high concentrations can lower oxygen levels being transported to the body's cells through the bloodstream.
Because of their smaller anatomy and organ systems, younger children can have severe reactions to increases in methemoglobin, which can range from shortness of breath or fatigue to seizures, coma or even death. That's why you should never use products with Benzocaine or similar numbing agents to ease teething pain. Instead, follow these common sense practices:
Give your child chilled rubber teething rings, wet washcloths or pacifiers to chew or gnaw on. The combination of cold temperatures and pressure from biting on them will help ease the pain. Just be sure the item isn't frozen, which could cause frost burns to soft tissues.
For temporary relief from soreness, gently massage your baby's gums with a clean, bare finger or with it wrapped in a clean, wet cloth. The massaging action helps counteract the pressure of the incoming tooth.
For intense episodes of teething discomfort, ask your healthcare provider about using an over-the-counter pain reliever like acetaminophen or ibuprofen. Be sure you use only the recommended dose size for your child's age.
Teething is in many ways like a storm—it too shall pass. Be sure you're helping your baby weather it safely.
If you would like more information on dealing with teething pain, please contact us or schedule an appointment for a consultation.