Posts for tag: toothbrush
By Bruce A. Leonard, DDS
April 08, 2021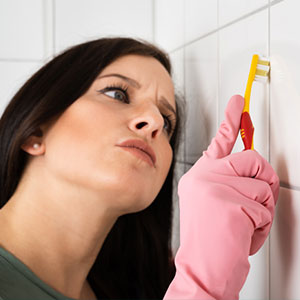 From a dentist's perspective, toothbrushes have a limited lifespan: Bristles can fray after months of use, rendering them less effective in removing harmful dental plaque. The American Dental Association therefore recommends a new brush at least every three to four months.
From a user's perspective, that's not that big a deal—toothbrushes are relatively inexpensive and plentiful in stores selling oral hygiene products. In fact, many dentists give their patients a new toothbrush after each dental cleaning.
But there's still another perspective: Mother Earth. Too many of those used toothbrushes end up in the trash. With potentially billions of disposed toothbrushes each year, this essential dental care tool could well be a significant contribution to our planet's overflowing waste problem.
Fortunately, you don't have to consign your used toothbrush to the landfill. After a sanitizing run through the dishwasher, there are dozens of ways to re-purpose your old brush. In recognition of Earth Day, April 22, here are a few of them.
Kitchen cleanup tool. Your kitchen is likely filled with various utensils and small appliances like toasters or blenders that contain lots of nooks and crannies. These spaces can quickly fill up with spills or food debris. With their narrow heads and long handles, old toothbrushes are ideal for tidying up your hard-to-clean kitchen equipment.
Tile grout cleaner. Those narrow bristles also make toothbrushes a great tool for cleaning bathroom tile grout. Simply apply your favorite cleaner, or a little baking soda added to water, and let your old toothbrush do the rest. A toothbrush is also handy for cleaning around other tight spaces around the sink, tub or toilet.
Personal hygiene aid. After retiring from teeth cleaning, your brush can still play a role in personal hygiene. Use if for cleaning under fingernails, removing hair from hair brushes or even getting your eyebrows in good order. They're also handy for applying hair dye if you can't lay your hands on the regular application brush.
Miscellaneous task helper. A used toothbrush can be useful for tasks in and out of the house. Inside, it can help you remove your child's crayon art from walls or tackle stubborn clothes stains. Outside, it's handy for cleaning different parts of your car, the soles of your shoes or grimy bicycle chains. When you need something small and narrow, a toothbrush might just fill the bill.
Have more than enough used toothbrushes? Then consider recycling the next one, if your local program allows it. In its separated components your toothbrush can thus continue to be useful—and not another piece of clutter on our beautiful planet.
If you would like more information about toothbrushes and oral hygiene, please contact us or schedule a consultation. To learn more, read the Dear Doctor magazine article "Sizing Up Toothbrushes."
By Bruce A. Leonard, DDS
April 24, 2018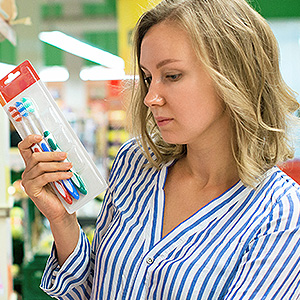 If there's one essential tool for dental health, it's the toothbrush. But though simple in basic design, manufacturers have nonetheless created a dizzying array of choices that often muddy the decision waters for consumers.
It doesn't need to be that way—you can choose the right toothbrush like a boss. First, though, you need to know a toothbrush's purpose expressed as two basic tasks: removing dental plaque, the thin biofilm that causes most dental disease; and stimulating the gums to maintain good health.
So what should you look for in a toothbrush to effectively perform these tasks? Here are 3 important factors to consider when buying this essential dental care tool.
Bristle quality. First, it's a myth that bristles should be hard and stiff to be effective—in fact harder bristles can damage the gums. Opt instead for "soft" bristles that are also rounded on the ends. And look for bristling with different levels of length—shorter length sections work better around the gum line; longer sections help clean back teeth more effectively.
A "Just right" size. Toothbrushes aren't uniform—you'll need to choose a size and shape that works well for you personally. You might find an angled neck or a tapered head easier for getting into your mouth's hard to reach places. If you have problems with dexterity, look for a brush with large handles. And be sure to ask us at the dental office for recommendations on brush dimensions that are right for you.
ADA Seal of Acceptance. Just like toothpaste brands, the American Dental Association assigns its seal of approval to toothbrushes they've evaluated and found to meet certain standards. Although you can find high quality toothbrushes that haven't sought this evaluation, an ADA seal means it's been independently tested and found safe and effective for use.
Of course, no matter how high quality the toothbrush you buy, it'll only be as effective as your brushing technique. So, be sure to use gentle circular or oval motions along all your teeth and gumline surfaces—it should take you about two minutes. We'll be happy to show you the proper technique in more detail, so you'll be able to get the most out of your chosen toothbrush.
If you would like more information on effective daily hygiene practices, please contact us or schedule an appointment for a consultation.